The Prince's Trust is built on a foundation of inspiring, motivating and encouraging confidence in young people looking to get their lives back on track. As a proud partner of The Prince's Trust, this is an ethos Eden London strives to visualise in their centres, including that completed in Blackfriars.
Project cost: £3 million
Project duration: 28 weeks
CLIMBING WALL
One of The Prince's Trust's key missions is to open doors and opportunities to all young people, and we have tried to reflect this in every part of the fit out. This included the installation of a climbing wall in the building to give users the chance to try out something new.
This was the first leisure fit out project we've worked on where a climbing wall was part of the brief. But our extensive research and invaluable experience allowed us to install it without issue or delays.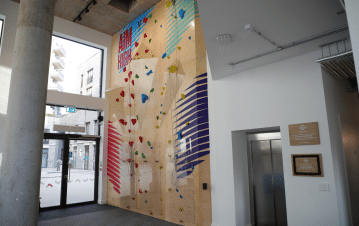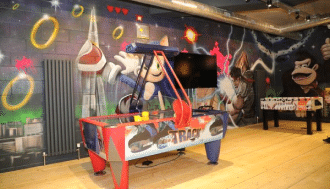 GAMES ROOM GRAFFITI
The games room was a designated area for visitors to let down their guard and enjoy their time—free of the stresses of everyday life. One of the key elements of this rooms' design was the graphic graffiti wall.
We sourced a professional graffiti artist, gave them a detailed brief of what our client was envisioning and this was the outcome—we hope you agree that it really brings the space to life!
SLIDE
Why walk from A to B when you can slide? This was another first for the eden London team, but a new challenge we loved working on and a feature that really injects fun and energy into the space.
Slides are becoming ever popular in building fit outs—especially modern offices—and we have the knowledge and understanding needed to fit them without issue.