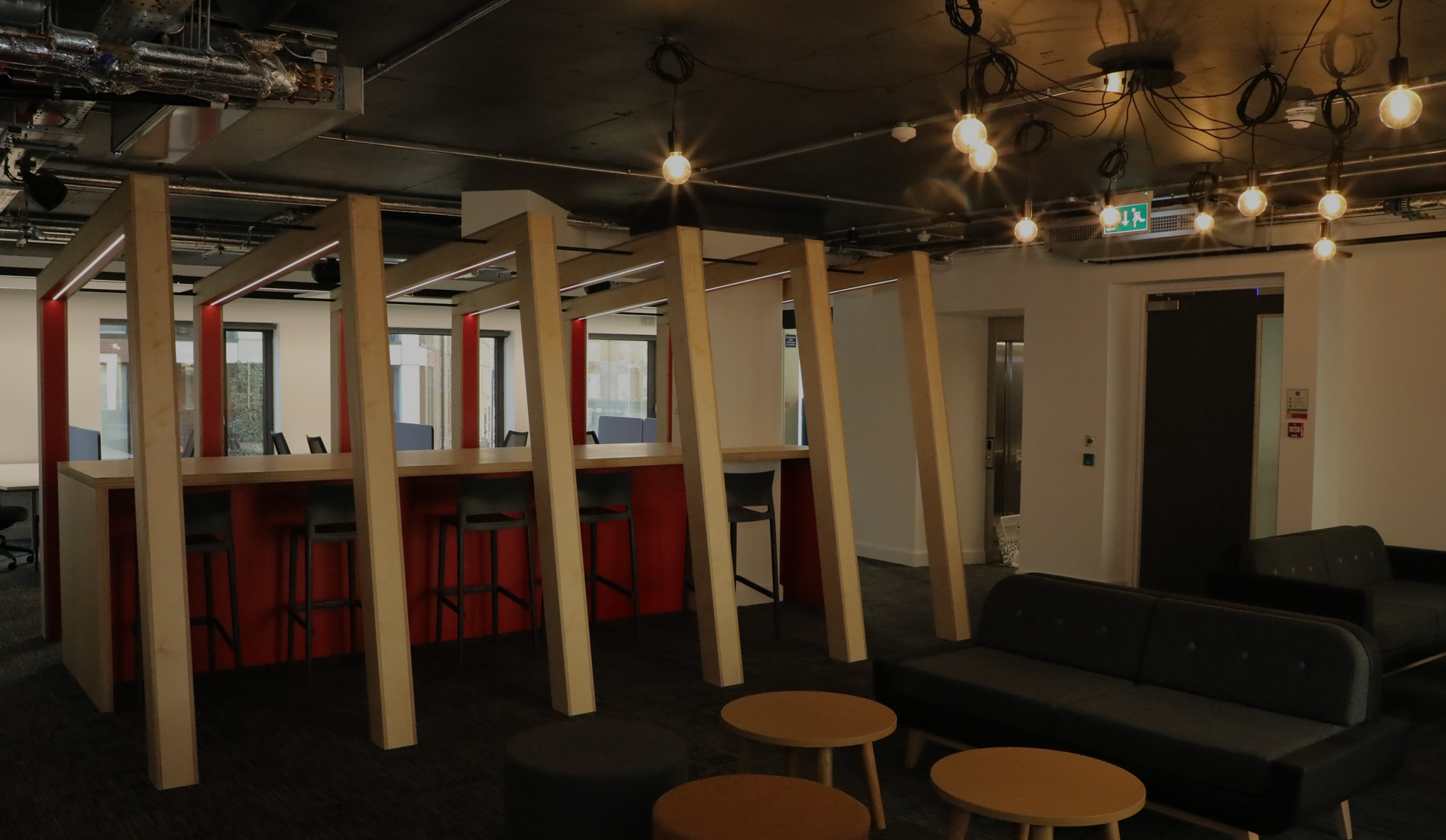 20 January 2021
Office Design To Inspire Your Employees
The environment we find ourselves in can have an instant impact on our mood—and there is no place where this is more relevant than in the workplace. The design and layout of your company's office has the potential to either help and hinder staff productivity.
If your office is due a redesign and fit out, it's important to make choices that boost employee engagement and help you reap greater levels of productivity. In this blog post, we share our insight into some of the ways you can create an office design that inspires your employees.
Reinventing the meeting room
According to The Muse, managers spend anywhere between 35% and 50% of their time in meetings. With some of the workforce spending as much as half of their time in these spaces, ensuring they're designed in a way which encourages employees to be inspired is key. 
This is especially true because the managers in the meeting rooms are often also the ones tasked with using this inspiration to lead and enthuse the rest of the team.
But more often than not, meeting rooms are bland and dated spaces with four walls and a table with some chairs dotted around. Although this is more than adequate in terms of functionality, this isn't exactly a great design for encouraging communication and creativity between those responsible for coming up with new ideas and devising business strategies.
Meeting rooms should be an inviting and comfortable space in which people can communicate freely. Spruce up the space with warm colours, comfortable furnishings and interactive whiteboards to encourage more collaboration and less chalk and talk.
The result? Everyone leaving the meeting space with the inspiration and enthusiasm to go out and motivate their team to reach the goals set. 
Redefining breakout spaces
On average, office workers spend around 1700 hours in front of a computer screen each year. This is a massive amount of time, and is something which can take its toll both mentally and physically.
As a responsible employer, it's your job to give your team a suitable breakout space where they can kick back and relax away from the desk. But more often than not, break out spaces are small, dated rooms with a few old chairs, a blurring fridge and perhaps even a microwave—if you're lucky.
But with better break rooms proven to lead to higher rates of employee productivity, taking your lunch area back to the drawing board might be just what's needed to inspire your team.
Some popular break room additions include:
Pool and foosball tables

TVs and radios

Sofas 

Quiet areas
You might think that giving your team more perks in the break room will lead to stretched out lunches and reduced levels of professionalism in the workplace. However, playing games, socialising and relaxing during lunch can in fact help your team clear their heads and improve their once when they return to their desk. You may also find relationships between co-workers improve, leading to better teamwork and in-office communication.
Finding the light 
You've got overhead lights in the office. That's all you need, right? Think again—the type of light sources used in your office space can have a massive impact on the engagement, happiness and productivity of your employees.
Where possible, you should always strive for as much natural light as possible. Whether each desk is positioned in front of a window or each team is positioned with a natural light outlook, it's a fact that daylight light is the best medicine when it comes to inspiring employees.
With this said, not every office can be re-designed with additional natural light sources. But this doesn't mean your team should be kept in the dark. There's multiple alternative options to inject light into any environment, including:
Spotlights

Bright wall colours

Table lamps

Change existing bulbs
Injecting colour
If you want to inspire your employees through office design, you need to offer something worth being inspired about. Although monochrome and neutral spaces might be the safe option for pleasing the masses, it certainly won't motivate anyone.
But injecting colour will. From feature walls to furnishings, adding bursts of colour into your office space can lead to better brain stimulation, higher workplace morale and more productive teams. Coordinate this with your company branding to give the workplace a sense of identity
Eden London have the experience and expertise needed to bring the right colours into your office design. With years of experience in office fit outs, we have the skills to inject colour into your space in a tasteful and effective way.
If you're considering an office redesign that will inspire your employees and lead to better performance results, contact us today.