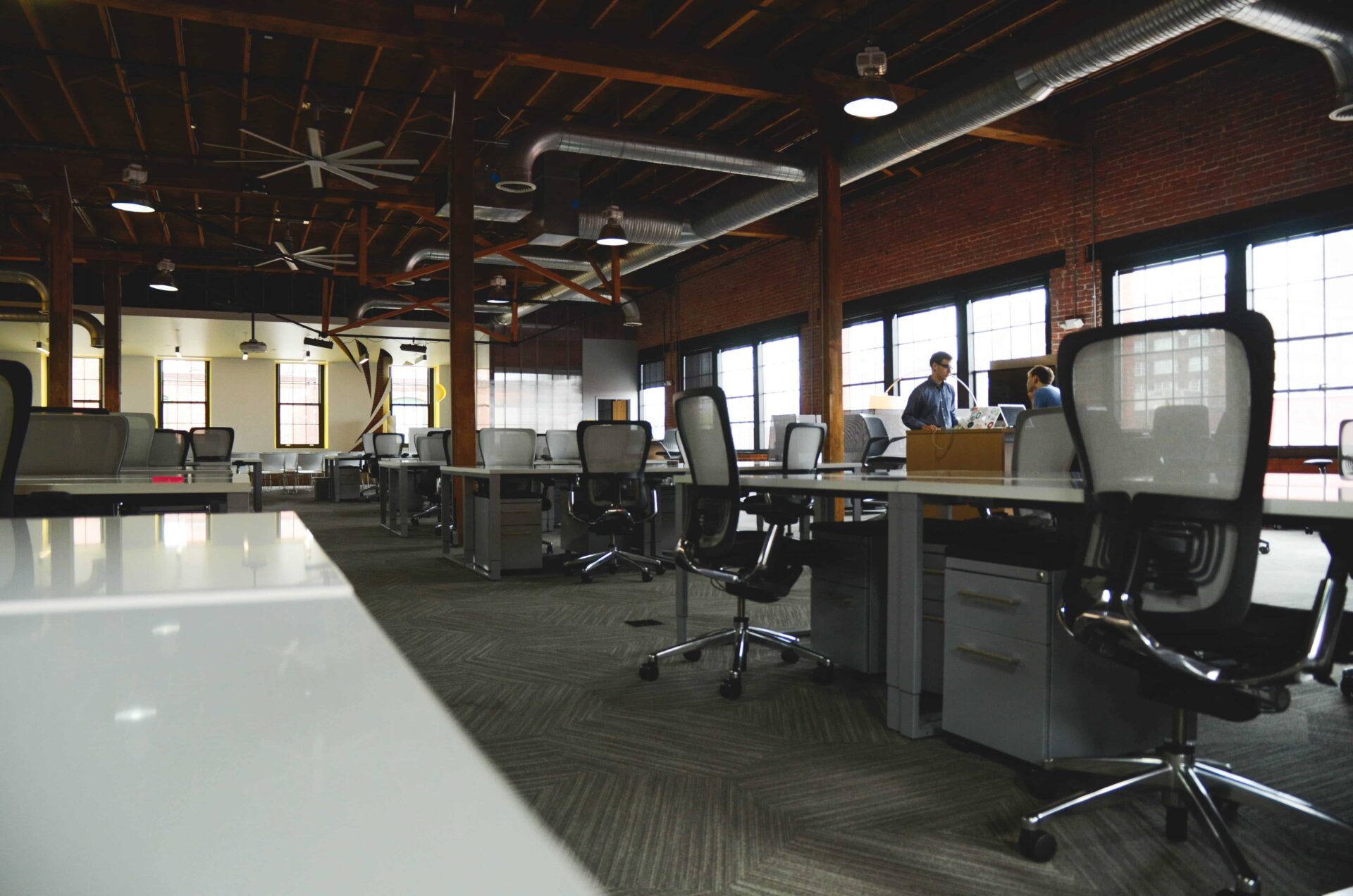 07 December 2021
Safety, Wellbeing, Flexibility: The Pillars of Office Designs in a Post-Covid World
Covid-19 has impacted not only our work lives but our work spaces. Nearly two years have passed since the virus was first detected, and in that time multiple strains have caused numerous lockdowns, travel bans, and tragic loss of life. And with a new and potentially virulent strain detected – designated Omicron – it's no surprise that employees are raising concerns about the need to return to office for work. How can workplaces guarantee their safety and wellbeing?
According to a recent poll conducted by the BBC, 70% of the general public believe employees will "never return to offices at the same rate" as before the pandemic.
While this is a staggeringly large statistic (bolstered by 79% of senior business leaders who believe the same), there remain many who posit that offices will always carry important benefits. For instance, they help keep work life separate from personal life. They serve as a physical representation of a company's culture and ambitions. And, importantly, offices are where the spirit of collaboration manifests – where people are united in a common purpose and learn from and support each other. The same BBC poll found that 62% of the general public felt that "young workers working from home will struggle more to progress in their career than going into the office".
It's clear that businesses need to address these challenges, and that workplaces need to adapt. So what should be done? What are the important considerations to keep in mind for the offices of the future?
Immediate Concerns
Employers have a duty of care to minimise the risk of Covid-19 transmission in their office spaces. The best way to do that is by understanding how the virus spreads, conducting a thorough and vetted risk assessment, and then putting into place safety measures. We know Covid-19 is transmitted in three ways: via person-to-person contact, air droplets, or contact with a contaminated surface. So employers should focus on three key areas: distance, circulation, and surfaces.
Distance
Distance refers to the 6ft/2m social distancing rule. In its review of this rule, the government found that "there are severe economic costs to maintaining 2 metre distancing" in office spaces but that the "relative risk [of transmitting or contracting Covid-19] may be 2-10 times higher at 1 metre than 2 metres without mitigations".
The updated guidance for working safely during Covid-19 offers solutions that take into account both points. These include:
Where practical, maximising the space between desks
Adopting a designated seating system
Assigning fixed teams or partners to minimise exposure
"Hot desking" (where multiple people are assigned a desk on a rota, with each person cleaning the desk and equipment thoroughly at the end of their shift so the desk is safe and ready to be used by the next colleague)
Where there are space constraints, using screens, barriers or workplace enclosures to separate people from each other
Businesses with an open plan office layout might find it easy to tackle distance. Those offices with a smaller footprint should seriously consider implementing the above solutions – so employees can work without worrying about falling ill.
Circulation
Circulation refers to ventilation. With research showing that a room with fresh air can reduce the risk of Covid-19 transmission by as much as 70%, ventilation is key to office safety.
The British Council for Offices or BCO is a leading forum for discussing issues related to office spaces. They published a guide this year on ventilation design and operation which provides recommendations for business owners.
Some of the solutions proposed by such bodies and the government include:
Identifying poorly ventilated areas within an office by using CO2 monitors
Providing a natural air-circulation system by opening windows and doors for short periods of time throughout the day to allow for fresh air to circulate throughout the office
Taking advantage of an open office floor plan
Using a Heating, Ventilation and Air-Conditioning or HVAC system which does not recycle air but increases air changes per hour
Where practical, having comfortable and fully equipped outdoor workspaces
The above are relatively easy to implement, and effective in minimising the transmission of Covid-19 via air droplets.
Surfaces
Surfaces can be broken down into three elements: furniture, walls, floors. All of which are linked to a comprehensive cleaning system.
Office furniture will need to be easy to move and easy to clean. This will allow for flexible layouts and good hygiene. Likewise, walls and floors must be made of materials that are easy to disinfect. Guidance – in the form of posters or stickers – should be used on walls and floors to educate employees on simple steps they can take to reduce the transmission of Covid-19. For example, signs on bathroom walls which clearly explain the steps needed to properly wash one's hands. Or stickers on the floor which indicate one-way walking systems to prevent people from bumping into each other.
Consider implementing a comprehensive cleaning system. Frequently used equipment or furniture should be cleaned after use, with adequate disposal arrangement in place. And employees should have easy access to cleaning equipment and supplies.
Long-term considerations
Covid-19 has impacted the design of existing office spaces. It's more than likely it will impact the design of future office spaces. Architects and designers are using this period as an opportunity for experimentation – to play with office space in novel ways that balance functionality with wellbeing, unity with safety. Employees need to return to spaces that are not simply sterile but invigorating and inspiring as well.
The Guardian reported on a Mind survey of 40,000 staff across 114 organisations, which found the wellbeing of 41% of employees had worsened during the pandemic. In the US, the figures are just as stark. A Visier survey found that burnout is sharply on the rise, with 89% of employees reporting they experienced it in 2021, and 70% open to leaving their current job as a result of it. And so from a business perspective, especially from an HR perspective, it is essential that the office spaces of the future are built on the pillars of wellbeing, safety and flexibility. Otherwise there appears to be a genuine risk of businesses succumbing to high turnover and low productivity rates.
"Where people can see their employer has taken well considered and appropriate steps to protect them and support their wellbeing with physical workplace measures or increased flexibility for remote working, it helps them to feel safer and more valued. This in turn contributes to a culture where trust and mutual respect can flourish and people naturally feel happier and more engaged with their organisation, driving greater levels of motivation and productivity." – Alex Arundale, Chief People Officer, Advanced HR Software
We're already seeing measures being taken to ensure safety. And in terms of office design and wellbeing, there are businesses across the world which are now trying some or all of the following:
Relaxation rooms where employees are made to feel safe and comfortable
Using plants and soft furnishings to make the office space feel more homely
Designing residentially inspired office spaces, drawing upon the layouts and décor of cafés, bars or restaurants to make work spaces more appealing to employees
A key takeaway here – one that's not new – is that when considering what makes an effective office layout and design, it's absolutely vital businesses understand their employees' needs first. And in terms of recent employees' needs, there is a clear shift in priorities.
The Office for National Statistics found that 85% of working adults currently homeworking want a "hybrid" approach involving both home and office working in the future. And the BBC reported on the results found by flexible work consultancy firm Timewise, which found that "9 in 10 people say they want flexibility in their next position."
The buzzword being used now in conjunction with employee needs and future offices is hybrid work spaces. These are flexible work spaces – ones which might have a smaller footprint but are capable of accommodating employees working in office as well as from home, bridging the two via technology and specially designed collaborative spaces built on the safety principles of distance, circulation and surfaces.
Ultimately, the idea behind hybrid work spaces is to reframe the notion that going to the office is an obligation but rather an option – hopefully an appealing one at that.
At Eden London, we understand that different offices have different requirements. We are reliable, professional office fit-out specialists. We have experience in creating all types of office layouts – and can create a safe and agile space for your workforce. Get in touch to learn more.